The 2022 Bucket Bracket Showdown: The Finals
By Ally Koss
In Ally Koss
Jun 17th, 2022
0 Comments
Time sure flies during the playoffs –– so much that this girl entirely missed the conference finals (sorry, guys), and now we're already on to the final round. So before we dive into our finals match up, let's do a lightning recap of who *would've* advanced to the finals solely based on masks.
• More: The 2022 Bucket Bracket Showdown: Round 1
• More: The 2022 Bucket Bracket Showdown: Round 2
In the east, we had Igor Shesterin and the Rangers taking on Andrei Vasilevskiy and the Lightning in what would be a landslide victory for Tampa Bay. Shesterkin's Daveart mask is certainly fine, as it knocked out another Daveart piece in Raanta's in round two, but Vasy's Sylabrush masterpiece is just too damn good. But we'll dive into that more in a minute.
So Tampa would sweep the Rangers with ease in a conference final mask battle, but what about out west? While the Oilers didn't fare too well against Colorado on the ice, Mike Smith's David Arrigo mask tandem is enough to have blown Pavel Francouz, who stepped in for Darcy Kuemper, out of the water. If you want to read the swooning over Smith's buckets, check back to the previous rounds.
Now that that's been established, let's dive into the finals!
Colorado Avalanche vs. Tampa Bay Lightning
Darcy Kuemper (Dave Gunnarsson, Daveart) vs. Andrei Vasilevskiy (Sylvie Marsolais, Sylabrush)
Back in net for the finals, Darcy Kuemper has a steep hill to climb, both on and off the ice, taking on back-to-back champs in the Tampa Bay Lightning. Vasilevskiy has been here (in the Bucket Bracket Showdown finals, that is) many times before, giving the seasoned vet a noticeable advantage over his opponent.
Composition
Starting with composition, both of these masks are actually pretty strong. With its abstract illustration of the Rockies, Kuemper's mask almost solely relies on the composition to make it interesting. Gunnarsson uses repetition from the triangular shape of the Avs' logo to create interest in the mountain ranges and lay out the design in a balanced, legible manner. Love to see it.
• More: HbD Interviews: Dave Gunnarsson
Marsolais tackles a different creative challenge with Vasilevskiy's mask, arranging a large number of design elements in one cohesive piece. She too does a great job of laying out this complex design, but Kuemper is going to steal this battle because of how naturally the viewer's eye moves through the design.
Avalanche – 1
Lightning – 0
Artistry & Style
Both of these goaltenders have their own distinct style that's carried over from season to season. That said one clearly stands out as having developed a true signature style, as well as harnessing and showcasing the talents of their artist.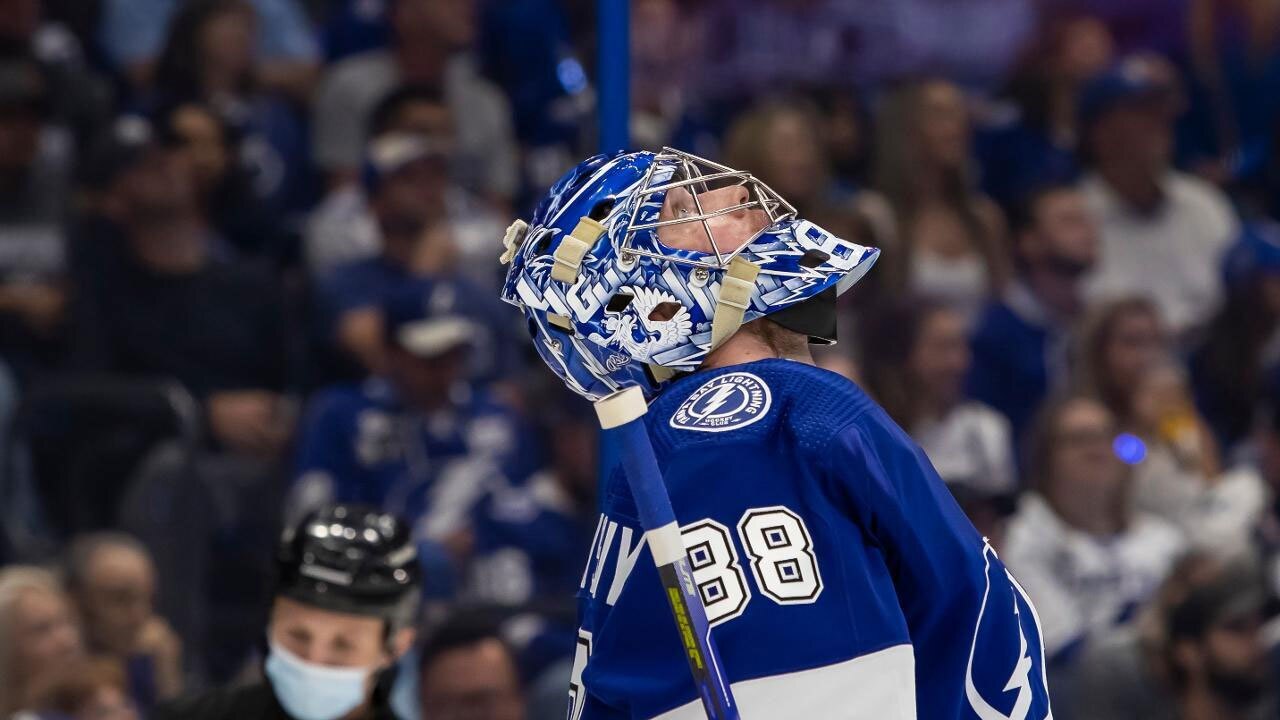 For someone who churns out as many masks as Dave Gunnarsson does, you certainly have to commend his creativity for even having the brain power to come up with new ideas year after year. But that said, Kuemper's mask doesn't necessarily showcase the best of what Gunnarsson can do.
Especially when you hold it to a mask like Vasilevskiy's, where the artist's talents really stand out. The varying styles Marsolais is able to execute and seamlessly integrate into one piece really lets her artistry shine.
Avalanche – 1
Lightning – 1
Use of Team Branding
This'll be a close one, as both of these goaltenders' masks incorporate their respective teams' brands quite well. As mentioned in the composition section, Kuemper's leverages the repeated triangular forms of the Avs' logo, as well as the local landmark of the Rockies, to inject the team's personality into the design.
Marsolais took a more subtle approach with her client's mask, including some Floridian elements like palm trees and lightning bolts tucked behind the block lettering on each side. The overall concept however focuses much more on Vasilevskiy himself –– including personal touches like the Russian coat of arms –– rather than the team brand exclusively.
Avalanche – 2
Lightning – 1
Innovation
On the innovation front, we've covered everything from temperature-sensitive color changing masks to glow in the dark paint, but ultimately this analysis is to look at who is pushing the boundaries of mask art in a league where we see nearly 100 designs (if not more) each season.
• More: HbD Interviews: Sylvie Marsolais
Neither of these have anything super cutting edge, especially with goaltenders who commission some variation of the same mask year after year, but if we look at the intricacies of Vasilevskiy's mask, you could certainly make an argument that it's pretty damn innovative. The way in which Marsolais combines techniques ranging from soft realism to sharp 2D graphics within the same design is really flawless and shows her creativity in assembling something so unique.
Avalanche – 2
Lightning – 2
Intangibles
We're tied heading into the final portion of the 2022 BBS, which brings us to the intangibles. Sometimes you can't put a name to it, but some designs just speak to you and transcend any one element to make them great. That, my friends, brings us to Vasilevsky's mask.
The reigning BBS champion has one of the best masks in the league by one of its most talented artists in Sylvie Marsolais. She really pulled out all the stops to make this mask a dynamic one that pulls you in with all of its depth and detail.
So our final result? Vasilevskiy takes the crown once again.
FINAL:
Avalanche – 2
Lightning – 3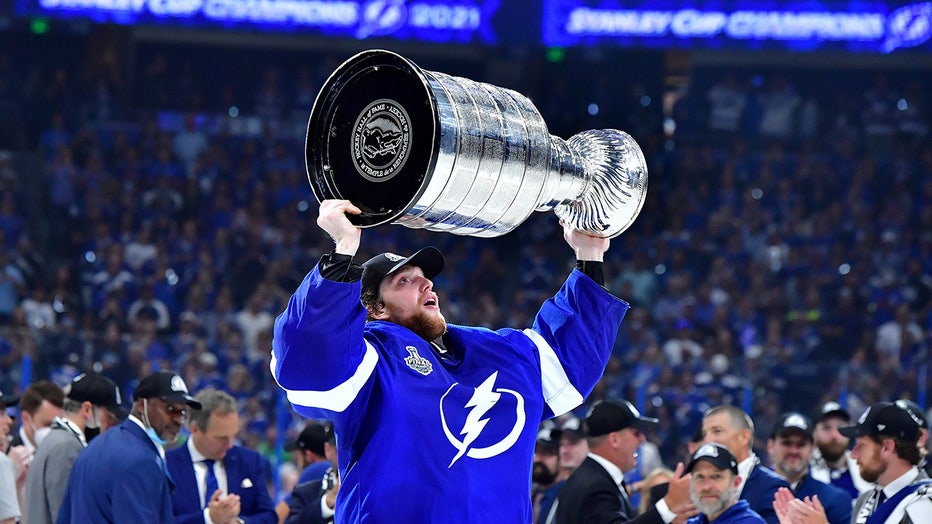 Agree? Disagree? Let us know in the comments below or join the conversation on Twitter, Facebook, or Instagram!
Related Posts By Category